Witajcie kochani!
Była mała przerwa we wpisach, ale dziś wpis wyjątkowy. Już w tamtym roku myślałam o tym, żeby wziąć udział w konkursie biżuteryjnym Royal -Stone, trudno powiedzieć dlaczego tego nie zrobiłam. W tym roku mam więcej czasu i postanowiłam się odważyć i jeżeli mi tylko nie zabraknie weny, czasu i siły, to postaram się wziąć udział we wszystkich 13-u konkursowych inspiracjach. Mam nadzieję, że będziecie śledzić przebieg konkursu i bawić się razem ze mną.
Tematem przewodnim tegorocznego konkursu jest fauna i flora, a pierwszą inspiracją był zimorodek.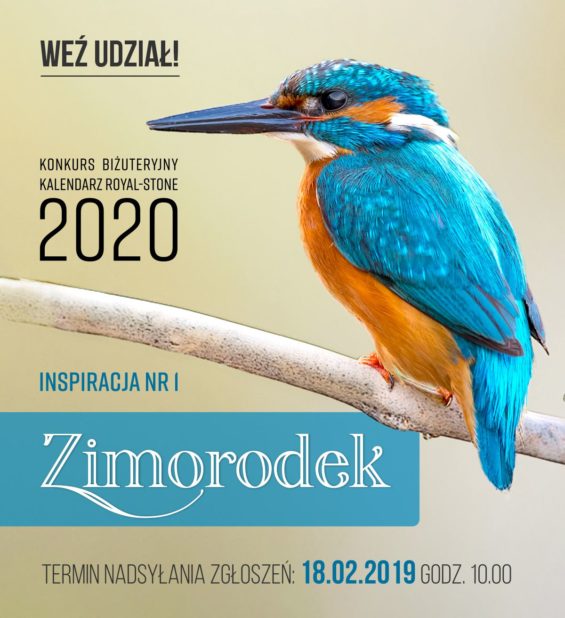 Szczerze powiem, że ten urokliwy ptak nie popchnął mnie w kierunku podążania za jego wyglądem. Wykorzystałam kolorystykę. (Jak to dobrze, że była taka możliwość)
Dziś przedstawiam Wam moją pierwszą pracę – spinkę do włosów. Jak widzicie kolorystyka idealnie odzwierciedla zimorodka. Dominują pomarańcz i odcienie błękitu i turkusu.
Od wczoraj wszystkie prace można podziwiać na Facebooku Royal-Stone i tam też wszystkie prace zbierają tzw. lajki.
Powiem Wam, że było mi bardzo przyjemnie zobaczyć, że moje małe sutaszowe dzieła też zbierają Wasze lajki.
Nie chcę się rozpisywać na temat jak powstawały moje prace, ale powiem tylko, że tradycyjnie szyłam bez żadnego szkicu czy projektu. I tradycyjnie najwięcej problemów przysporzyło mi sfotografowanie robótek. Nie wspomnę o tym, że spośród pewnie 100 zdjęć, które zrobiłam musiałam wybrać po jednym z każdej pracy. To chyba było najgorsze!
Tym razem nie robiłam zdjęć takich jak zwykle, np z pudełkiem itp. Wszystkie spełniają warunki konkursu. Zimorodek jako żywo kojarzy mi się z zimą i zdjęcia będą ozdabiać kartkę kalendarza na styczeń, więc zrobiłam tylko fotkę na zimowym szaliku.
Zajrzyjcie do albumu konkursowego na www.facebook.com/fanpageroyalstone i podziwiajcie wszystkie zimorodkowe inspiracje. Jeżeli spodoba się Wam moje dzieło, to proszę o głos i za każdy już teraz dziękuję. Chętnie przeczytam Wasze komentarze.
Ja cieszę się, że podjęłam konkursowe wyzwanie i liczę na wiele emocji związanych z kolejnymi inspiracjami. W następnym wpisie moja druga praca!
Kasia
18,462 total views, 11 views today